About the Baha'i International Community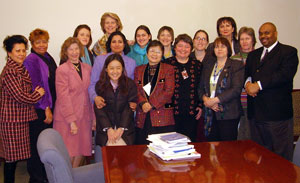 Some 21 Baha'is from 10 countries participated in the 2006 United Nation's Commission on the Status of Women (CSW), an annual meeting on women's issues. Shown here is a partial gathering of the Baha'is present at the meeting, taken at the Baha'i International Community (BIC) offices in New York.
The Baha'i International Community is an international non-governmental organization with affiliates in over 180 countries and territories, which together represent over 5 million members of the Baha'i Faith. As an international NGO, our Office interacts and cooperates with the United Nations, its specialized agencies, with governments, as well as with inter-governmental and non-governmental organizations. The BIC seeks to promote and apply principles — derived from the teachings of the Baha'i Faith — which contribute to the resolution of current day challenges facing humanity and the development of a united, peaceful, just, and sustainable civilization. At this time, the work of the BIC focuses on the promotion of a universal standard for human rights, the advancement of women, and the promotion of just and equitable means of global prosperity.
The Baha'i International Community has offices at the United Nations in New York, Geneva, and Brussels; representations to the European Union and UN Regional Commissions based in Addis Ababa, Bangkok, Nairobi, Rome, Santiago, and Vienna. An Office of Public Information, based at the Baha'i World Centre in Haifa, Israel, disseminates information about the Baha'i Faith around the world and publishes a quarterly newsletter, ONE COUNTRY.
More resources:
 Baha'i International Community Facebook page. more...
 Visit our YouTube channel. more...