Persecution of the Baha'i Community
Overview
The Baha'i International Community works to protect the rights of persecuted Baha'i communities. In Iran, where the Faith continues to be viewed as heretical to Islam, Baha'is comprise the largest religious minority. Since the Islamic Revolution of 1979, Baha'is have been systematically denied access to higher education, employment; and have been subjected to summary arrests and detentions. They have never been able to openly practice their religion. Our Office continues to work to defend the rights of Baha'is wherever their freedom to participate and to contribute fully to the life of society is denied.
New Report:Violence with Impunity: Acts of agression against Iran's Baha'i Community
Iran: UPR implementation (January 2013)
Situation of the Baha'is in Iran: Background document (January 2013)
List of Baha'i prisoners in Iran (January 2013)
In Focus
Increasing violence against Iranian Baha'is engineered by government
GENEVA — 15 March 2013 — The cradle-to-grave attacks against Baha'is in Iran represent one of the broadest and most obvious cases of state-sponsored religious persecution in the world, said Heiner Bielefeldt, the UN Special Rapporteur on freedom of religion or belief. Speaking on 6 March 2013 in Geneva at a side event during the 22nd session of the Human Rights Council, Dr. Bielefeldt discussed the release of a new report by the Baha'i International Community, which documents rising violence against Iranian Baha'is and the utter impunity enjoyed by attackers. more...
Resources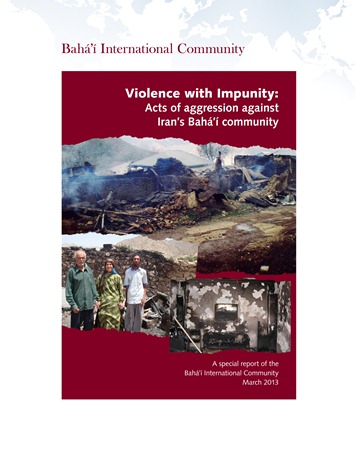 New Report: Violence with Impunity
Baha'i International Community Documents