Responses from governments, NGOs, and prominent individuals
The arrest, trial and reported sentencing of the seven Baha'i leaders – as well as the ongoing persecution faced by Iran's 300,000-strong Baha'i community – has prompted governments, nongovernmental organizations, and prominent individuals to issue statements in response. Some are reproduced here.
21 January 2014—
Human Rights Watch, in its annual World Report, says that Iranians continue to face serious rights abuses, despite President Hassan Rouhani's promises to respect citizen's rights. "Authorities have released some prominent political prisoners but executions continued at high rates," said HRW in a press release. "Officials continued to detain many civil society activists and leading opposition figures." The report also said that Iran "denies freedom of religion to adherents of the Baha'i Faith, Iran's largest non-Muslim religious minority, and discriminates against them."
31 December 2013—
In its quarterly update, the Foreign and Commonwealth Office of the United Kingdom said Iran has not substantially improved its human rights situation. "The Iranian government continued to make positive public statements on civil rights issues, but there has been no sign of institutional change to improve the human rights situation, including for minority religious and ethnic groups, journalists and human rights defenders, prisoners and women." The update also noted that lack of freedom of belief continues to be a serious concern, citing, among other things, the repression faced by Baha'is.
20 December 1013—
The United States Senate passed a resolution "condemning the Government of Iran for its state-sponsored persecution of its Baha'i minority and its continued violation of the International Covenants on Human Rights." The resolution also calls on Iran to "immediately release" seven imprisoned Baha'i leaders, 12 imprisioned Baha'i educators, and "all other prisoners held solely on account of their religion." The legislation urges sanctions on the Iranian government and "individuals directly responsible for serious human rights abuses against the Baha'i community of Iran."  
18 December 2013—
By a vote of 86 to 36 with 61 abstentions, the UN General Assembly expressed "deep concern at serious ongoing and recurring human rights violations" in Iran, citing alarm over unjustified executions, the use of torture, limits on freedom of assembly and expression, and ongoing discrimination against women, ethnic minorities, and religious minorities, including members of the Baha'i Faith.
22 October 2013—
In his annual report to the UN General Assembly, Ahmed Shaheed, the UN Special Rapporteur on the situation of human rights in Iran, said there has been "no sign of improvement" in Iran's human rights record since last year's report. Among other things, Dr. Shaheed expressed concern over Iran's high level of executions, continuing discrimination against women and ethnic minorities, poor prison conditions, and limits on freedom of expression and association. He also said he "continues to observe what appears to be an escalating pattern of systematic human rights violations targeting members of the Baha'i Faith."
10 September 2013—
UN Secretary General Ban Ki-moon, in a report to the UN General Assembly on the situation of human rights in Iran, expressed concern over a wide range of issues, including reports of torture, amputations, flogging, increased application of the death penalty, abritrary detention, and unfair trials. Mr. Ban also said he continues to receive reports that ethnic and religious minorities continue to face discrimination, citing also reports of "widespread and entrenched discrimination faced by members of the Baha'i community."
21 August 2013—
The International Campaign for Human Rights in Iran issued a report titled "Fulfilling Promises: A Human Rights Roadmap for Iran's New President." The report examines ongoing human rights violations occurring under the purview of nine ministries that are under presidential authority, and provides recommendations on how newly elected President Hassan Rouhani can put an end to these violations. The report makes specific mention of the persecution of Iranian Baha'is in three of its sections, outlining the discrimination Baha'is face in education and employment and their lack of freedom of worship.
July 2013—
A July 2013 report on "Peoples under Threat" by the Minority Rights Group highlights those countries around the world where the risk of mass killing is greatest. This year's annual report notes that "Sectarian killing between Sunni and Shi'a has risen dramatically and presents an urgent threat to life across much of the Middle East and into Asia…." The report also expresses concern over the situation of Baha'is in Iran, Iraq and Egypt, listing them on a table of threatened groups.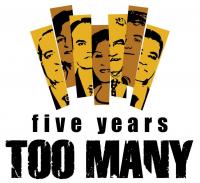 13 June 2013—
A global outpouring of support and concern for the plight of the seven Iranian Baha'i leaders – and for the situation of other prisoners of conscience in Iran – marked worldwide commemorations of the fifth anniversary of the arrest of these Baha'is. Statements calling for the immediate release of the seven came from every continent, issued by government officials, religious leaders, human rights activists, and ordinary citizens.
June 2013—
A June 2013 report, "Iran: Rising Poverty, Declining Labor Rights," from the International Federation for Human Rights (FIDH) and its member organization, the Iranian League for the Defence of Human Rights (LDDHI), documents violations of economic and social rights faced by women and minorities in Iran. Two pages are devoted to "Discrimination against non-recognised Baha'i religious minority." 
June 2013—
In June 2013, the International Labor Organization expressed "deep concern" over continuing economic and educational discrimination against Baha'is in Iran
23 May 2013—
The UN Committee on Economic, Social and Cultural Rights recommended that Iran ensure that all citizens, regardless of religious belief, enjoy full rights without any discrimination. The Committee specifically referred to the Baha'i community, expressing its concern that Iranian Baha'is face "widespread and entrenched discrimination, including denial of access to employment in the public sector, institutions of higher education, as well as to benefits of the pension system." It recommended that Iran "take steps to ensure that members of the Baha'i community are protected against discrimination and exclusion in every field."
13 May 2013—
In a press release issued on the eve of the fifth anniversary of the arrest of the seven, the four experts emphasized that the seven are held solely because of their religious beliefs, that their continued imprisonment is unjust and wrongful, and that Iran's treatment of religious minorities violates international law.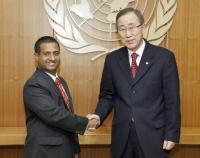 22 March 2013—
The United Nations Human Rights Council voted by an overwhelming margin for a continuing investigation into human rights violations in Iran. The vote, 26 to 2 with 17 abstentions, came after new reports by the investigator, Ahmed Shaheed, and UN Secretary General Ban Ki-moon. Both reports expressed serious concern about the Iranian government's continued violations of human rights, discussing its widespread use of torture, the wrongful detention of journalists and lawyers, and discrimination against women and minorities.
10 December 2012—
In a statement marking UN Human Rights Day, 10 December 2012, Foreign Affairs Minister John Baird recommitted Canada to "working toward the promotion of freedom, democracy, human rights and the rule of law around the world." In Iran, he said, "egregious human rights violations are a daily occurrence. Iran's persecution of religious minorities, including Baha'is and Christians, is deeply troubling. Canada will continue to take a leadership role at the United Nations in condemning the human rights situation in Iran."
Pages