About the Baha'i International Community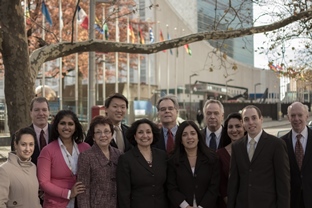 The staff of the Baha'i International Community.
The Baha'i International Community is an international non-governmental organization with affiliates in over 180 countries, which together represent over 5 million members of the Baha'i Faith. Our engagement with the United Nations dates back to the founding conference of the UN and its predecessor, the League of Nations. As an organization in consultative status with the UN Economic and Social Council and with UNICEF, we collaborate with the UN and its specialized agencies, as well as member states, inter-governmental and non-governmental organizations.
We understand the progress of humanity as a global enterprise advanced by the combined efforts of individuals, communities and institutions. The work of our Office is guided by the teachings of the Baha'i Faith and the knowledge generated by the worldwide Baha'i community as it endeavors to apply the principles of unity and justice to the betterment of villages, neighborhoods and to society as a whole. We strive to further UN discourses and processes in the fields of development, human rights, and the equality of women and men by offering those insights and approaches that affirm the importance of the coherence between the material and spiritual aspects of human life.
The Baha'i International Community has offices in New York, Geneva and Brussels with representation to the UN and the European Union.
More resources:
| | |
| --- | --- |
| | Baha'i International Community Facebook page. more... |
| | Visit our YouTube channel. more... |