Actor Rainn Wilson will be the master of ceremonies at an event in Washington DC as part of the Five Years Too Many campaign next month.
Also scheduled to speak at the event, which is scheduled for 6 May 2013 at the Carnegie Endowment for International Peace, will be author Roxana Saberi and Katrina Lantos Swett, chair of the U.S. Commission on International Religious Freedom (USCIRF).
The event is expected to feature remarks by a couple of US Congressmen, said Anthony Vance, director of the Office of Public Affairs of the Bahá'í community of the United States, which is organizing the event.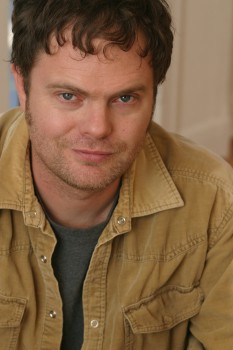 Mr. Wilson, who is a Baha'i, is perhaps best known for his portrayal of Dwight Schrute on the television comedy "The Office." He has also been in numerous Hollywood films.
Ms. Saberi is an American journalist who was arrested in Iran in January 2009. During her four months in Evin Prison, she spent several weeks sharing a cell with two of the seven imprisoned Baha'i leaders, Mahvash Sabet and Fariba Kamalabadi. In her book about the experience, "Between Two Worlds: My Life and Captivity in Iran," and elsewhere, Ms. Saberi has described in detail the difficult conditions they faced, as well as the inspiration provided by Mrs. Sabet and Mrs. Kamalabadi.
Appointed to the USCIRF in 2012, Dr. Lantos Swett established the Lantos Foundation for Human Rights and Justice in 2008 and serves as its President and Chief Executive Officer. The Foundation is dedicated to the legacy of the late Congressman Tom Lantos, the only survivor of the Holocaust ever elected to Congress, who actively campaigned for human rights.  In addition to managing the Lantos Foundation, Dr. Lantos Swett teaches human rights and American foreign policy at Tufts University.
For more information, contact the US Baha'i Office of Public Affairs at: BahaisUS@usbnc.org