The wedding of Mr. Rezaie's nephew, Iman Naghashian, in 2010.
Among the most joyous occasions for families are weddings. Because of his wrongful imprisonment, Saeid Rezaie, 59, has missed out on no less than the weddings of five nieces or nephews.
One such wedding came shortly after he was arrested on 14 May 2008. His niece, Pooneh Shakibai, was due to be married in July that year in Frankfurt, Germany. Pooneh's mother recalls:
"The decision was the whole family would attend the wedding," she said, adding that it had been decided that Mr. Rezaie and his wife, Shahin, would be in charge of wedding invitations and bringing the bride's veil from Iran.
"We were in the middle of inviting people for the wedding when we heard dear Saeid was arrested. You can imagine what heartbreaking news that was to hear. On the one hand my daughter was getting married, and on the other my beloved brother was suffering and we didn't know where he was.
"In the end my daughter got married in such a heartbreaking environment. Instead of my dear brother and his family attending the wedding, we put a framed picture of them smiling at the guests on the table. During the ceremony, all Saeid's sisters were crying," she said.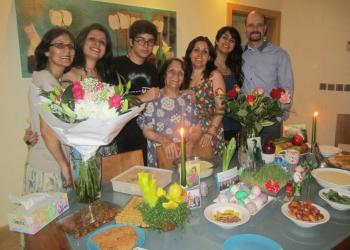 Naw Ruz gathering of Mr. Rezaie's family in 2013.
An agricultural engineer who had run a successful farming equipment business in Fars Province for more than 20 years, Mr. Rezaie is also known for his extensive scholarship on Baha'i topics, and is the author of several books.
Born in Abadan on 27 September 1957, Mr. Rezaie, now 59, spent his childhood in Shiraz, where he completed high school with distinction. He then obtained a degree in agricultural engineering from Pahlavi University in Shiraz, attending with the help of a scholarship funded from outside the country.
In 1981, he married Ms. Shahin Rowhanian. They have two daughters and a son: Martha, Maaman, and Peyvand.
Mr. Rezaie has actively served the Baha'i community since he was a young man. He taught Baha'i children's classes for many years, and served the Baha'i Education and Baha'i Life Institutes. He was also a member of the National Education Institute.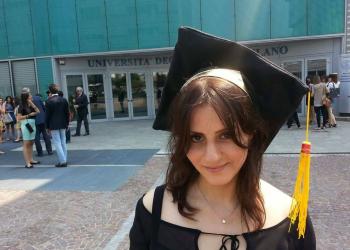 The graduation of Mr. Rezaie's niece, Leva, in 2013.
A scholar and an author, he has served as an academic adviser to Baha'i students.
During the early 1980s, when persecution of Baha'is was particularly intense and widespread, Mr. Rezaie moved to northern Iran and worked as a farming manager for a time. Later, he moved to Kerman and worked as a carpenter and at other odd jobs in part because of the difficulties Baha'is faced finding formal employment or operating businesses.
In 1985, he opened an agricultural equipment company with a Baha'i friend in Fars Province. That company prospered and won wide respect among farmers in the region.
He has experienced various forms of persecution for his Baha'i belief, including an arrest and detention in 2006 that led to 40 days in solitary confinement.
His two daughters, Martha and Maaman, were among the 54 youth of Shiraz who were arrested in May 2006.
In addition to five weddings, Mr. Rezaie has missed out on numerous family other family events, including various graduations of his three children.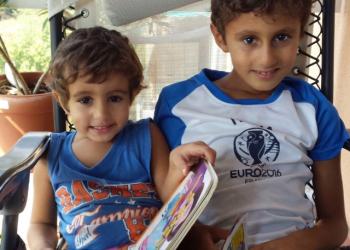 Two grand nephews, Ryan and Davin, were born while Mr. Rezaie has been in prison.
His oldest child, Martha, graduated from the BIHE in 2008 with a degree in librarianship, and later she received a degree in Visual Arts from SUNY Empire State College via their distance learning program. In 2017, she received a master's in Leadership in Creative Industries from Hochschule in Darmstadt, Germany.
His middle child, Maaman, received a degree from the University of Albany in 2013, and an MFA in Film and Media Arts from Temple University in 2017.
And his youngest, Payvand, graduated from high school while Mr. Rezaie was in prison.
Mr. Rezaie missed the funerals of two uncles, Hassan Rezaee and Hormoz Rezaee, and two aunts, Maleki Rezaee and Mozayan Ali Akbar Nejad Shirazi.
He also missed on the birth of at least five grand-nephews.
And, while he was in prison, his company was closed.