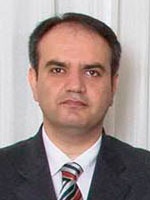 Mr. Vahid Tizfahm, imprisoned since 14 May 2008.
Few individuals have as much influence on the formative years of life as does a father on his son.
And in the case of Mr. Vahid Tizfahm, wrongfully imprisoned since 2008, he has missed virtually the entirety of his young son's adolescence.
Samim was around nine years old when Mr. Tizfahm was arrested on 14 May 2008.
This year, Samim will be graduating from high school – and, unless prison officials relent and grant a temporary furlough or, even, early release – Mr. Tizfahm will miss that life event, too.
According to a close relative, the family has also suffered greatly from the loss of income they would have enjoyed had Mr. Tizfahm, now 43, not been in prison.
Tizfahm is an optician and, before his arrest, he was the owner of an optical shop in Tabriz, where he lived until early 2008, when he moved to Tehran.
"For nine years, he hasn't had any control or income from that business," said Martin Ahmadzadegan, who is married to Mr. Tizfahm's sister-in-law.
Mr. Tizfahm was born 16 May 1973 in the city of Urumiyyih. He spent his childhood and youth there and, after receiving his high school diploma in mathematics, he went to Tabriz at the age of 18 to study to become an optician. He later also studied sociology at the Advanced Baha'i Studies Institute (ABSI).
At the age of 23, Mr. Tizfahm married Furuzandeh Nikumanesh.
Since his youth, Mr. Tizfahm has served the Baha'i community in a variety of capacities. At one time he was a member of the Baha'i National Youth Committee. Later, he was appointed to the Auxiliary Board, a position which serves principally to inspire, encourage, and promote learning among Baha'is. He has also taught local Baha'i children's classes.
While in prison, Mr. Tizfahm also missed the wedding of his sister's daughter.
And, like the other Baha'i prisoners, Mr. Tizfahm has also missed out on simply being able to enjoy life outside of prison walls. In 2013, Mr. Tizfahm sent to one of his relatives a poignant letter describing what it was like to miss out on the coming of spring.
He described how one of his friends had come to the front of the prison with a tuberose flower, and miraculously, the prison guard brought it to his cell. "What a spring I had during those days, and what an amazing few days that I spent with that flower," wrote Mr. Tizfahm. "I cared for it and watered it to lengthen my spring, as it had been months since I had savored such a fragrance or seen a beautiful face such as that of the flower."